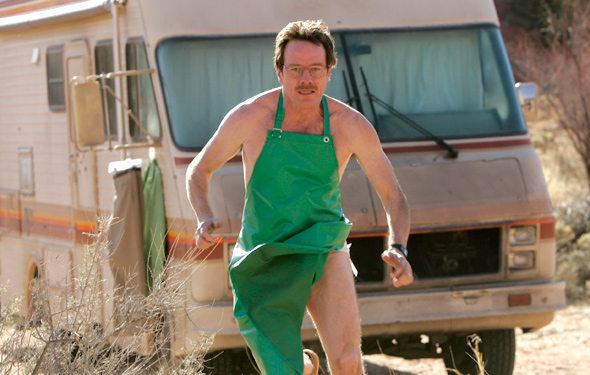 Breaking Bad: Does anything bad happen after this part? 
I'm just not going to make it past episode three of Breaking Bad. You can't talk me into it, because even though it's the most-discussed TV show in America right now, I don't want to watch it. I'm a proud member of the Breaking Bad dropout club and I'm staying that way.
Here's why: It's an extremely violent show. I don't do well with violence on screen. After scraping through three extremely stressful episodes—my heart racing, my body sweating—I decided this violence has no place in my life. As nice as it sounds, I think it's just not worth having horrific images (like, say, an acid-soaked dead body splattering all over a hallway) lasered into my brain forever just so I can find out what happens to a fictional chemistry teacher.
I found some validation for dropping out in an interview with drug policy journalist Jonah Engle, who has written extensively about meth and spent time with former meth producers and addicts. In an interview on Fresh Air this week, Engle was asked whether he watches Breaking Bad. Engle said he's started the show, but (like me) stopped watching after the third episode. 
"I've spent time in jails with meth cooks who've lost everything, I've spoken to families who've seen their loved ones locked up. I've seen meth labs out in the open. It was more horrifying and depressing to watch this TV show than to see it in real life," says Engle. What makes the show worse than real life, explains Engle, is that it is unrelenting in its horror. There is no hope for Breaking Bad's characters as we're all dragged down Walter White's abusive and amoral spiral. 
Violence is a very useful element in storytelling; horror forces viewers to recognize what they fear. Shows like Breaking Bad push us to explore what we find disgusting and to understand what we consider corrupt.  But to me, it feels like there's an increasing expectation to be nonchalant about extreme violence if you want to participate in pop culture—like Engle and I are the odd ones out for not being able to shrug off murder when we flip off the TV.
When I watch Breaking Bad or any film involving scenes of torture or graphic abuse, I'm ruined. The onscreen violence dredges up the fact I suppress in order to get through the day: that I am vulnerable. While it's fine, I think, for shows like Breaking Bad to make us consider real-world violence, we shouldn't expect everyone to be up for taking on that task as entertainment. 
Sometimes, when it's worth it, I'll put myself through the wringer to consume some bloody but essential media. In the past year, I've gotten through Cabin the Woods (with the lights on), Django Unchained (despite tears), and The Wire (with some significant pausing and muting).  But I'm not up for wearing myself thin to follow the decline of a male anti-hero chemistry teacher and a bunch of no-good guys over the course of six seasons. I've got enough villains to worry about in real life. 
Our Fall TV podcast talks more about Breaking Bad and "anti-hero fatigue," as well as gender roles in the show. Listen here!